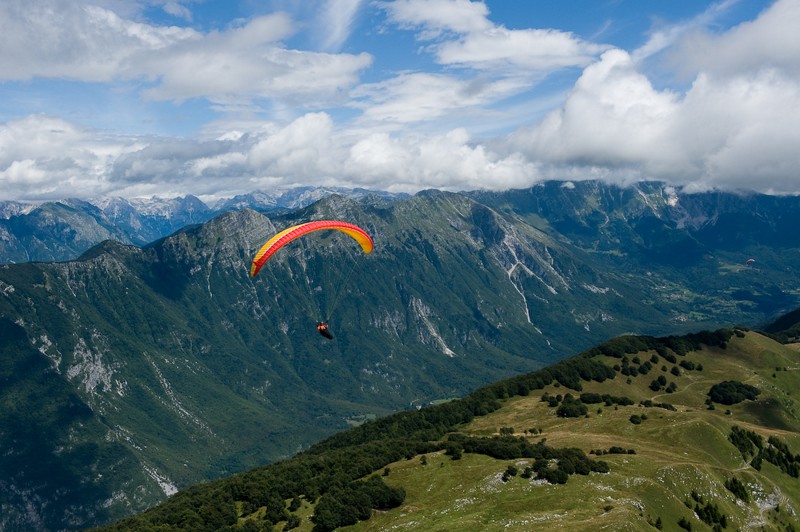 Paragliding in Bohinj
During the Summer exploring Bohinj Lake from the air can be one of the unforgettable sport activities. You don't need previous experience if you are paragliding with tandem pilot.Tandem paragliding can be performed as panorama tandem paragliding from Vogar, from Vogel, Studor, acrobatic tandem paragliding, and photo tandem paragliding. Paragliding from Vogel can be performed from several take-off points: the lowest take-off point is Vogel, take-off point Orlove Glave, take-off point above Žagarjev graben. Tandem flight from Vogel is one of the most picturesque paragliding locations in Slovenia as it offers a magnificent view over Julian Alps and the whole Bohinj valley.
If you want to learn paragliding techniques you can take paragliding beginners course (lasts 5 days) or take advanced course (includes 10 flights from a 1000 m high mountain Vogar or Studor) if you are more experienced.
Prices for tandem paragliding are from 90 e per person (Vogar-Studor) to 125e (Vogel-Krvavec). Here are some paragliding agencies that could be contacted for the booking flights and renting equipment: www.pac-sports.com Phone: ++386 42 698 523 e-mail: info@pac-sports.com, Alpinsport Ribčev Laz
Tel/Fax: +386 (0)4 5723 486 Mob: +386 (0)41 91 88 03 Alpinsport Vogel Tel: +386 (0)41 83 20 76