Location
Bohinj lake is placed in south-western part of Slovenia, in the hearth of National park Triglav. Capital city of Slovenia is Ljubljana, on 80km from Bohinj.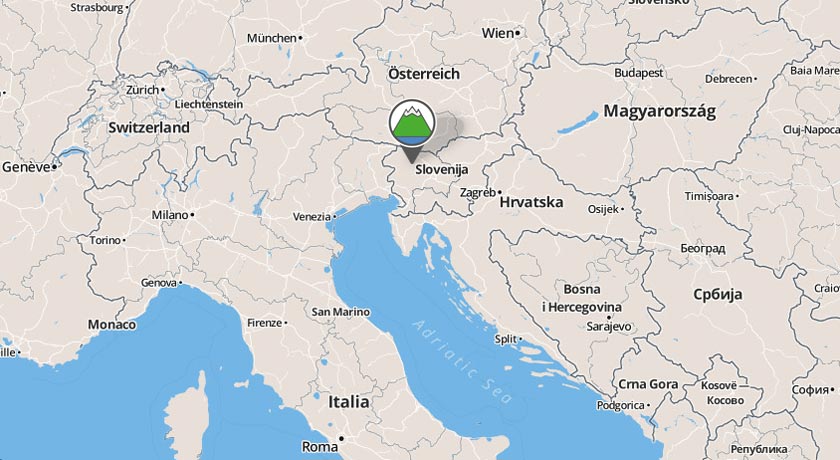 By car
Bohinj is placed only 33km A2/E61 highway that connects Ljubljana (Slovenia) and Villach (Austria). These are the list of cities and distances by car:
– Ljubljana, Slovenia (83km),
– Kranj, Slovenia (55km),
– Kranjska gora, Slovenia (68km),
– Maribor, Slovenia (212km),
– Villach, Austria (81km),
– Klagenfurt, Austria (106km),
– Vienna, Austria (430km),
– Zagreb, Croatia (223km),
– Trieste, Italy (177km),
– Venice, Italy (321km),
– Budapest, Hungary (545km),
– Belgrade, Serbia (616km),
– Sarajevo, Bosnia and Hercegovina (596km)…
Motorcycles, private cars and vans whose maximum permitted weight does not exceed 3.5 tons must carry a vignette in order to drive on all Slovenian motorways and expressways. Weekly prices for cars 15 euros or 30 euros for month.
Read more info about car vignettes in Slovenia.
By airplain
Closest international airports are Ljubljana Airport Jože Pučnik (64km), Klagenfurt, Austria (115km), Trieste, Italy (200km) and Zagreb, Croatia (228km).
By bus
When you find bus to Bohinj you have to search direction From Jasenice or Ljubljana to Bohinjska Bistrica or Ribcev laz. The best place for that is Alpetour website.
By train
You can get to Bohinj lake even by train, from Jasenice and Nova Gorica. Closest station from lake is in Bohinjska Bistrica (6km) where you can book some accommodation or get taxi or bus.
Jasenice train station is connected with direct lines with:
– Slovenia – Ljubljana
– Austria – Vienna, Graz, Salzburg, Villach
– Germany – Munich, Frankfurt
– Switzerland – Zurich
– Czech Republic – Prague
Ljubljana is also well connected with Italy, Croatia, Serbia and Hungary from where you can catch direct train to Jasenice and Bohinjska Bistrica for about 7 euros.
More info: www.slo-zeleznice.si