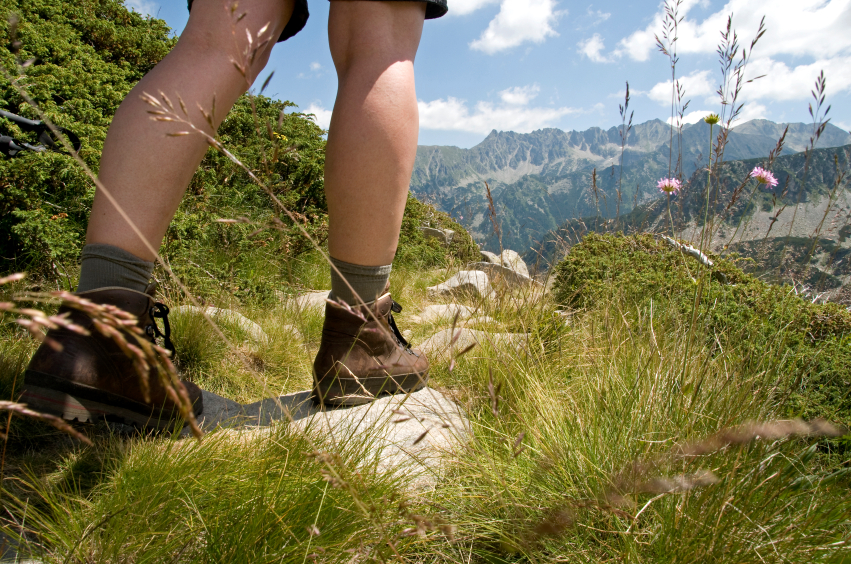 If you decided to visit Bohinj lake (Bohinjsko jezero) during the summer then you don't want to miss perfect opportunity to discover the third most visited natural site in Slovenia, Savica Waterfall. Savica brook is the strongest permanent influx of Lake Bohinj and if you choose to hike from Ukanc you will walk along it's left bank. The trail will take you to the Komarca wall and than to the Savica Hut. This foothills will take you to the Savica Waterfall. The name of the trailhead is Zlatorog Hotel.Savica Waterfall is on the end 4.2km long trail. You will enjoy your moderately difficult walk 1h 20min. The trail is available on the map of Bohinj hiking trails.
Have you ever visited the Slovenian Geological Trail? Don't miss this unforgettable experience. The trail connects very important geological features through the whole Slovenia, across the Karavanke mountain, Julian Alps, through central part of the country, towards Croatia.
Part of the Slovenian geological trail in the area of the Triglav National Park starts with the Vintgar Gorge. Pokljuka Gorge ,Pokljuka plateau, Blejska koca hut, Lipanica pasture can be visited during your slovenian geological trail expedition. If you are interested in fossils of snails, shells, visiting the Studor pass is the perfect occasion for this. The Triglav Lakes Valley is the unique pearl in the world that you simply must see. You can reach this beautiful lakes after visiting the Velska dolina valley, Dolic and Prehodavci. Here are the important and interesting points that you should visit: Karst plateau Komna, Krnsko jezero lake, Zatolminske mountains, Tolminska korita, Razor pasture.
Spring is perfect time to explore beautiful and not demanding sights of the Pokljuka. You'll be able to enjoy in Vodnikov razlednik(beautiful panoramic view of the Bohinj Valley to the soothing energy spots at Raspotje and the Uskovnjca pasture. This adventure is available from 25th of April until the end od October. The trail is 8 km long and walking will last 4 hours. The price is 45€.
Goreljek Peat Bog Study trail enables you to learn more about peat bogs on the Pokljuka plateau. This is one of the most preserved natural areas in Europe and you should visit and learn more about it. This study tour lasts 2 hours, it's free of charge and it's available from 31st of May until the end of October.
Mountain Visevnik is 2050m high. Mt Visevnik rises above the Rudno polje and offers unforgettable view of the Pokljuka plateau and Julian Alps. This tour will last about 3 hours. It is necessary to be equipped with appropriate hiking shoes, clothing. Drinks and snacks are more than welcome. Meeting place is at Center Hotel in Rudno polje. If you want to experience this route together with your friends or family members, than prior reservation is recommended (Center Hotel in Rudno polje, i.e. by telephone +386 (0)4 532 0000 or e-mail: info@center-pokljuka.si). This route is available from the 14th of June until the 14th of September, lasts 3 hours, costs 15e. During this guided hike route you will visit Jurcek hut, Visevnik ski centre. From the Visevnik you will enjoy in the amazing views of the Mountain Triglav and other Julian Alps.
If you want to experience trail which was used by the women from Bohinj, who carried theri men sentenced to death across the hills. This route lasts 7 to 8 hours and starts at the Vogel cable car station at 6:45. By ski lift you will arrive to the Orlove glave, and then your pilgrimage to Cadrg starts. If you want to arrive to Bohinjska Bistrica you'll have to catch the train at Most na Soci at 18:52. This tour is available from 6th of June until the 14th of September, lasts 8 hours, costs 50e.
If you want to learn more about the archaeology of the high mountain area of the Julian Alps? Than Iron Trail is perfect opportunity for you to know more about Julian Alps from the Roman period to the medieval period, which are featured by archaeological findings in the area of the Pokljuka Plateau, the Triglav mountain range, Mt Komna and the Lower Bohinj mountains. The trail from Vogel to Komna dates back to the Bronze Age to the medieval period and is also part of the Inron Trail.
Participants shall gather at 7.45 am at the lower station of Vogel Ski Centre cable car, which will take you to Mt Vogel at exactly 8.00 am.
Botanical excursion is easy and interesting to those people who don't like extreme climbing and hiking activities. Route starts on the parking place at St. john's Church (Ribcev Laz), lasts 4-5 hours, costs 5e (boat ride from Ukanc to Ribcev laz isn't included). This price includes guidance and entrance fee for the Savica Waterfalls. Botanical excursion is available from 25th of May and offers you unique opportunity to find three-leaved windflower, christmas rose, lily of the valley, liverleaf, colt's foot, hacquetia, hairy rhododendron, siberian iris.
Mostnica is green-blue crystal clear Alpine river all through the Voje valley all the way to Stara Fuzina village. If you want to walk through the scenting forest, listen the birds singing you will totally enjoy in exploring the beautiful Stara Fuzina. There are two options, shorter and longer version. In the first one you can start exploration in Stara Fuzina, where you pass the Zois mansion next to the Devil's Bridge. Here you can view the picturesque gorge made by Mostnica river. The next beautiful thing that you'll visit is a hollow rock "Little Elephant". If you are willing to explore more of the Slovenian nature, you'll be able to enjoy in the picturesque valley of Voje to 21m high Voje waterfall. The next stop could be Voje Waterfall Alpine Hut. Here you can enjoy in local food. From April to October you should pay a fee for trail regulation if you want to walk through the Mostanica Gorge( from Devil's Bridge to the exit near the Voje Hut). For full enjoyment in this tour we recommend to hire a guide who will describe everything about historical details related to this area. Additional information and reservations regardless visiting Mostanica Gorge can be done via this email info@bohinj.si
Nr.6 International Wild Flower Festival is approaching and you have to be informed in time if you want to experience this unique event. You can attend different workshops for children and adults:Bouquet making,Two-day events along the thematic trail in the Fairyland of the Goldhorn, Flower motif embroidery, Edible wild flowers with Dario Cortese (culinary preparation), Flowers in the kitchen (recognizing and picking flowers), Manual grass cutting and storage at hay racks. If you want to enjoy in the thematic walks and hikes than your choice will be botanical tours, ornithological tours and photographic tours. For culinary fans there will be many menus that include flowers, culinary evenings, honey and cheese specialties combined with flowers on the honey and cheese route.
We are sure that you want to walk and experience the Bohinj Alpine Trail which was set in the memory of the first four men who climbed Mountain Triglav. This route is available for everyone. Those who are more experienced can try the more demanding part of the trail and enjoy in climbing. Those who walk the hiking part of trail will receive a silver sign and diploma. Those who succeed to pass the hiking and climbing parts will be awarded by the golden sign. Less experienced hikers should hire a guide.
Want to enjoy in different hiking experience in Slovenia? Than Hiking Festival in Bohinj is great chance to try diverse activities such are: Basic of Nordic walking course, easy guided hiking tours, moderate guided hiking tours, degustation workshop, climbing programs, cycling tours, workshops for children and adults, courses, sports competitions, workshop: "The basic of movement in nature with the use of a compass, map or GPS", climbing programs. Extra offer includes: cycling tour to Come pasture, night canoe trip with torches, day with horses. Low cost hiking packages , from 3-7 days costs from €95, weekend package costs from €57.
If you are not a fan of extreme mountains sport activities than Nordic walking is perfect for you. It's appropriate for individuals, groups, whole family. Benefits from Nordic walking are numerous: you can enjoy in nature, entire body exercises. If you decide to enjoy in Nordic walk through Stara Fuzina, you'll need to make reservation, you need two more people for a group, you have to prepare appropriate equipment (sports clothing, appropriate shoes). The walking will last 3 to 4 hours and you tour will start with the basic of Nordic walking, than you'll visit Stara Fuzina, Ribnica and Mostnica brooks, the Pec hill, and at the end you'll be able to enjoy in amazing view of Lake Bohinj. The price for this Nordic adventure in Bohinj is 20e.
All you need for hiking from the Mountain Vogel to Ribcev Laz is beautiful weather and willingness to explore and enjoy this part of Slovenia. Panoramic ride by cable car to Mountain Vogel is absolute fantastic. When you reach to the top of the cable platform you'll be able to enjoy in wonderful view. Vogel is one of the most popular ski center in Slovenia and attractive enough in the summer and winter season. You can enjoy in exploring Vogel and take a break in one of the many cafe bars. when you return back, you'll be able to walk for one hour through the forest which takes you to Ribcev Laz. The price for this exciting tour is only 10e, so if you are interested you should make reservation.