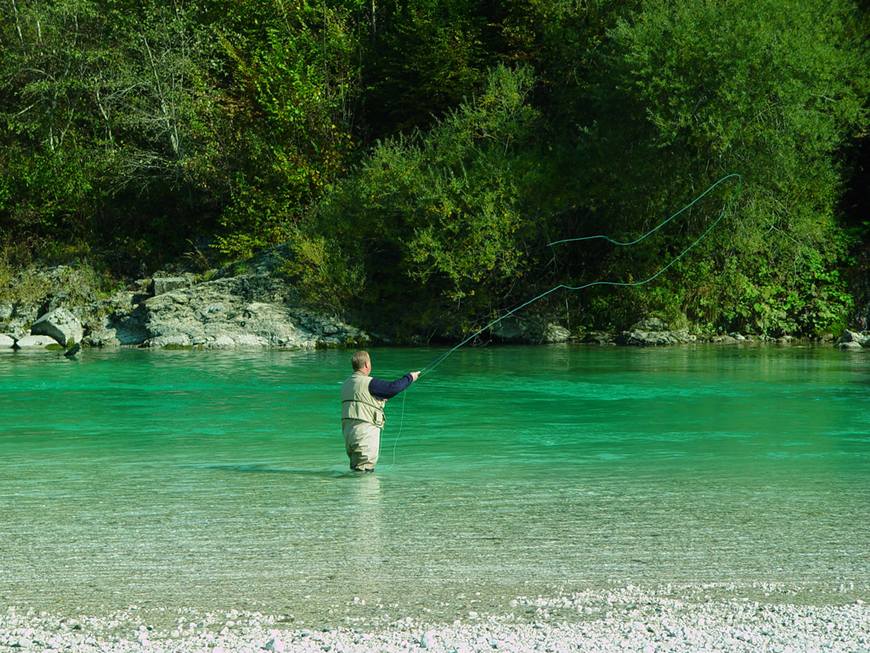 Fishing on the Lake Bohinj (Bohinjsko jezero) is one of the most popular activities during the summer. Spring and Autumn are the best months for fishing that's why you should hurry and discover natural beauty of Bohinj Lake while you are enjoy in favorite hobby
Experience fishing in Bohinj Lake
Watching at the crystal clear lake surface, waiting for the right moment of catching the fish, listening the birds song, enjoying in the green wood. That's why the fishing on the Lake Bohinj is so unforgettable experience for all fishing enthusiasts. Fishing area no.1 on the Lake Bohinj starts with the outflow of the Savica to the bridge (St john's Church). In the Lake Bohinj you can catch autochthonous lake trout, eelpout and bleak. You can fish from the boat with only one fishing set. Fishing can be performed by using one rod, one bait (artificial and natural), one hook, angling, fly-fishing. Although fishing from the bridge might be a great experience for the tourists, it is not allowed. Fishing is permitted from the March until the 14th of November and the 9 pieces of bleak may be caught. You can catch only one salmon per day. Price for the Fishing on the Lake Bohinj is 25e.
Fishing on the Sava Bohinjka and Mostnica river
If you want to catch Huchen on the Sava Bohinjka river, you need special fishing licence and the fishing is available from the beginning of December until the mid of February. On the Mostnica river only certain types of fly fishing can be performed. Mostnica river is specific and exclusive fishing spot because only 5 fishermen per day can enjoy on this spot. . You can enjoy in Fishing Festival and International Fly tying Meeting in late September and early October.
Fly-fishing in the Mostnica brook
The picturesque natural scenery and the abundance of crystal clear water make Bohinj a true hotspot for the fishing enthusiasts. Whether a beginner, a demanding fisherman seeking an exclusive experience or highly experienced fly fishermen, you will find suitable conditions to use (or upgrade) your skills to the fullest extent possible and of course to enjoy yourself in the process. If you are more experienced than you'll want for sure to perform fly-fishing in the Mostnica brook, with a float tube on Lake Bohinj, in Sava Bohinjka River. Whichever type of finishing you chose, you'll enjoy for sure.